Welcome to the

`Āina Haina Community Association

The `Āina Haina Community Association (AHCA) was founded in 1966 by residents committed to ensuring the quality of life and preserving the values that have made `Āina Haina one of the most desirable places in which to live on the Island of O'ahu. Today, our community numbers just under 25,000 residents with homes commanding some of the highest and most stable property values in Honolulu. With your continued support, active participation and the strong community and family spirit for which `Āina Haina is known, we will work together to sustain these values for generations to come. If you and your family have lived here as long as many, mahalo nui loa for your support.

If you are new to this area, e komo mai and please be sure to join the AHCA to help preserve a beautiful, safe and thriving `Āina Haina. Approximately forty percent of households in the community are members who elect an all-volunteer Board of Directors each year at the `Āina Haina Community Association General Meeting. All Directors live in our community -- some for generations.

During each program year spanning July 1 to June 30, the Board of Directors is tasked with ensuring that each tenet of the AHCA charter is upheld:

1. to promote the general welfare of the `Āina Haina area and its residents
2. to foster a positive community spirit and
3. to take informed action when necessary on community problems
---
---
---
WE DID IT!
The purchase of the Upper Hao Street 9.5 acre parcel is complete!
MAHALO AINA HAINA!
Let's celebrate everyone's hardwork
Come to our
Aina Haina Community Association General Meeting
Wednesday, November 13, 2019
7:00 PM
Aina Haina Elementary School Cafeteria
See the Agenda and Newsletter
here
---
Saul Price Award at the 2018 Hawaii State Science Fair

Saul Price Award at the 2017 Hawaii State Science Fair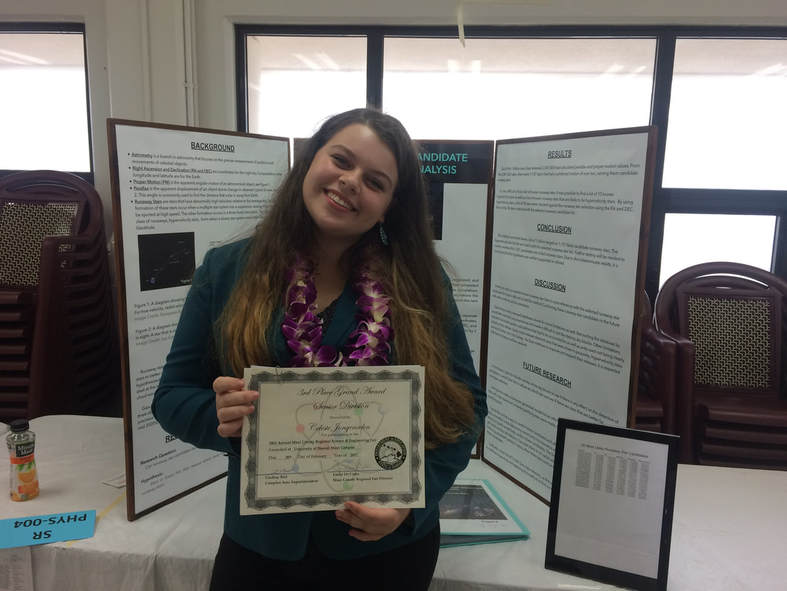 Each year the AHCA presents an award at the Hawaii State Science and Engineering Fair, the Saul Price/Aina Haina Community Association Award. It is presented in honor of Saul Price who was the state meteorologist for many years, one of the founders of the science fair, and an outspoken supporter of the Aina Haina Community Association.
The award is given to an outstanding project in the area of atmospheric science.
The 2017 award went to Celeste Jongeneelen, a homeschool student from Maui. The title of her project was "A Runaway Star Candidate Selection and Analysis."
Runaway stars are those that have abnormally high velocities compared to average stars. Celeste adapted a computer program to survey one billion stars, and she was able to identify over one thousand runaway stars. These results were consistent with earlier findings. Read more of the abstract
here
---
Do you live on or near Wailupe Stream?
At our General Meeting on October 21, 2015 we heard the US Army Corps of Engineers (USACE) tell us that the Wailupe Stream flood mitigation project is now terminated because the cost/benefit ratio is less than 1. The alternative is a smaller project with a cost not to exceed $10 million. The terminated project was estimated at $30-40 million, so the new proposal is to only construct the highest priority flood solution. City and State partners must request the smaller project.



We are organizing a Wailupe Stream Committee, to be sure that the various issues along the stream are identified and addressed and so that community members have a say in the smaller project.





We also learned that the City is conducting a survey of problems along the stream that need to be repaired. The Wailupe Stream Committee will also work with the City to be sure their Facilities Maintenance Department is aware of problems.





In the mean time, the AHCA Board has requested a copy of the Cost/Benefit Analysis so that we know how what costs and factors where used in the analysis. When we receive that report, we will post it on this website.





If you are interested in joining the committee, please email AinaHainaAssoc@gmail.com.
---
AINA HAINA PREPARED

Our Current Priority is to "Map Your Neighborhood"


Link to the On-line Questionnaire

here
Link to the print and mail version here

Preparing for...Responding to...Recovering from...

Disasters


join the group

, attend meetings

and presentations


read more





---
UPPER HAO STREET Project
The Trust for Public Land is negotiating with the landowner for the purchase of the property.
for more information on the background and history click here

---
---